All over the world, people, companies, schools and governments are waking up to the fact that Soft Skills matter.
This is revolutionary. For the past 400 years since the beginning of The Enlightenment, everyone has thought that the only thing that was important was Hard Skills — science, engineering, technology, mathematics, business, finance. Everything was framed within the laws and boundaries of the hard sciences.
Modern education was designed within this framework and thus emphasized knowledge, memorization, analytical thinking and tests. It was considered "soft" to teach emotional intelligence, social skills, interpersonal collaboration, personal development. These have been largely considered private matters, best kept outside the educational system and developed on your own somehow.
As the chart indicates, the world is becoming increasingly complex.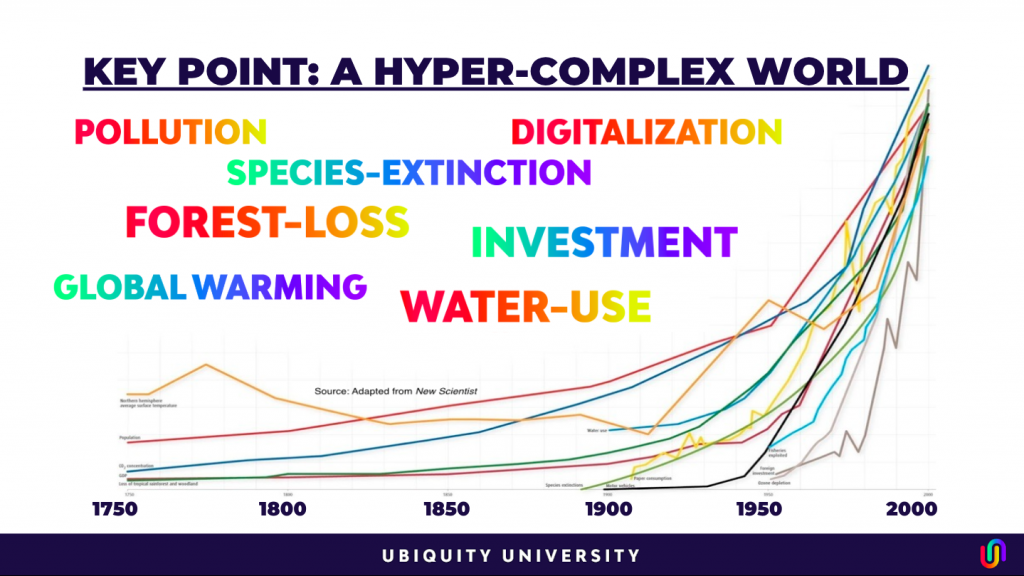 This is why "soft skills" are now emerging as critical. Why? Because they make you more adaptive and resilient in a radically changing world. They enable you to navigate. They are key to getting jobs, being promoted and developing successful careers.  Companies understand this. They are at the cutting edge of navigating escalating change and so this is what they want in their workers and executives. This is why Soft Skills are now understood to be as important as Hard Skills. Soft Skills are now critical skills. The more you develop each, the better you do with both. They mutually affect one another. If they are in balance, you are in balance.
Imagine you hear that a global company is hiring 50 engineers. You apply and soon discover that over 5,000 other people also applied. They all have degrees. How do you think the company will choose the 50 out of 5,000? They will assume that everyone knows pretty much the same things and so they will make the decision based on how well you interview, how at ease you are with your answers, how well you interact with the people around you, how confident you seem — your Soft Skills.
At Google, candidates for jobs are interviewed at least eight times and the goal of the interview is to discern what kind of person you are rather than what you know. They assume that what you know is pretty obsolete anyway, so they are looking for creativity, people skills and resilience. Google has determined that in fact the best people to hire are not people with degrees from elite institutions or who know a lot of facts, but people who have suffered, who have experienced a trauma and come out the other side more empathetic, understanding, and emotionally mature. More and more companies, like Google, are hiring because of who you are not because of what you know. Then after you're hired, they will train you in the domain in which they want you to work. Companies want to know about your Soft Skills before they give you a Hard Skills job because your Soft Skills will determine how well you will perform in that job.
But it is more than that. Cisco conducted a study released by the World Economic Forum in which they looked at 21 different industries in 7 Asian countries. Their conclusion — the best way for companies, governments and workers to prepare for the increasing impact of Big Data, Artificial Intelligence, Automation and Robotics is NOT to develop more Hard Skills but to learn Soft Skills. Soft Skills, more than anything else, are essential in developing the "flexible" workforces necessary for the future. This is an astonishing conclusion. Everything is being re-shaped by advanced technology but the way to successfully deal with this is not through more technology but through Soft Skills.
What are the essential Soft Skills? They are learning to have a Global Mindset, participating in Cross Boundary Team Building, engaging in Innovation and Entrepreneurship, mastering Emotional Intelligence, refining your Critical Thinking, exercising Leadership, and applying Whole System Design.

Soft Skills include developing your body with exercise and good nutrition, practicing mindfulness, being authentic with your friends and on the job, working to your strengths, being willing to fail and be self critical, all while you build community through creative collaboration. If you master these skills, these "soft" parts of yourself, you will unlock your highest potential and you will dramatically increase your chances of success in navigating an increasingly complex future. Soft Skills are your Superpower.
Ubiquity has developed the most advanced course anywhere in the world to train you in the Soft Skills you need. Check it out: Foundation in Soft Skills Program.