Build Your 21st Century Skillset
Activate your Future Literacy Superpowers with The Foundation in Soft Skills & UN SDGs Program
Soft skills are the 21st Century Skills that will help you stand out!
They will get you hired and ensure career success.
People with soft skills have a 94% chance of being promoted to a leadership position
93% of employees believe soft skills are more important than hard skills
85% of job success comes from well developed soft skills
The 7 Essential Skill Categories and the 17 United Nations SDGs
The Foundation in Soft Skills Learning System is based on Ubiquity's Chartres Framework – a re-imagining of the 7 traditional Liberal Arts for the 21st Century. It covers seven essential, future-proof soft skill areas and then guides teams to experience and apply these competencies in a real-world project built around one of the 17 United Nations Sustainable Development Goals.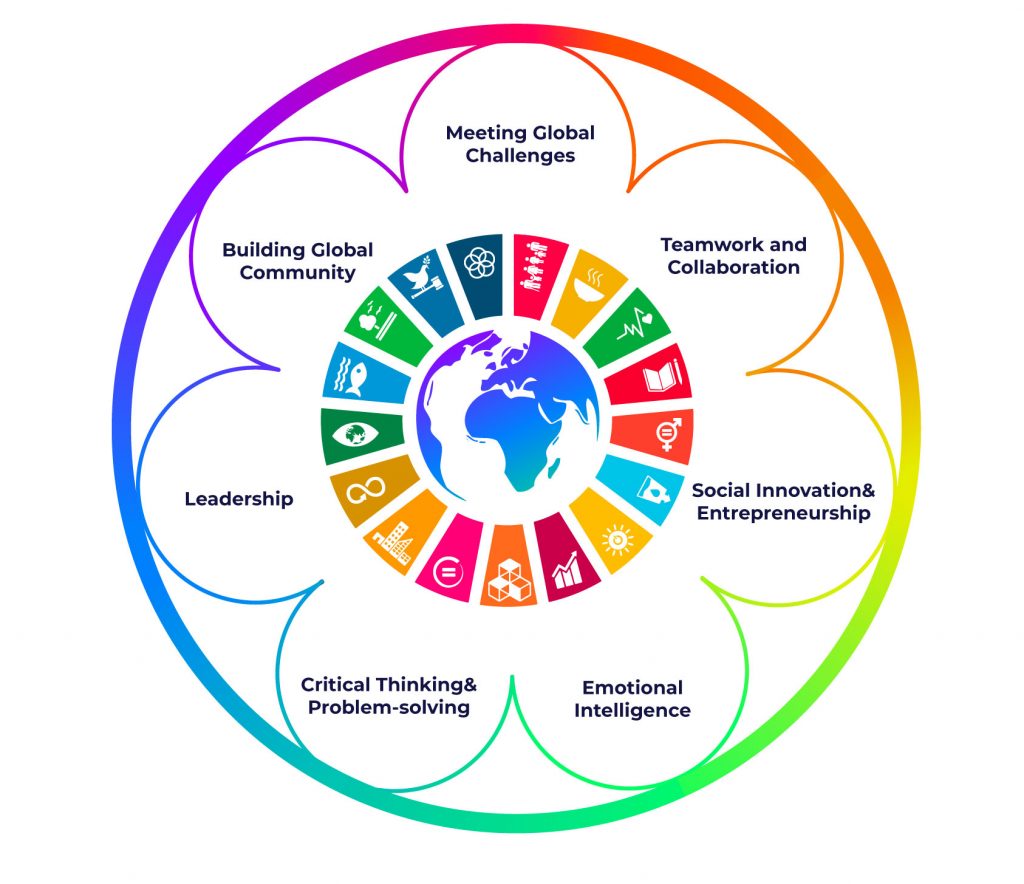 Use the Foundation in Soft Skills and UN SDGs in the classroom or in corporate settings with our turn-key learning program.
What is the Foundation in Soft Skills Program?
The Foundation in Soft Skills Program is a turn-key instructional program that you can use in your school or your business to help your students and employees quickly and effectively enhance their 21st Century skillset and become acquainted with the United Nations Sustainable Development Goals (UN SDGs). We provide all of the materials, including video banks, learner and facilitator workbooks, and we train your teachers and facilitators to deliver the content so you have everything you need to get started immediately. Our curriculum is based upon research and information coming from businesses and corporations all across the globe who are seeking employees who are able to demonstrate competencies in the "softer skills" of leadership, critical thinking, conflict resolution, etc. In addition, we have mapped the UN SDGs to each content area in order to ensure program participants are equipped to understand the various, complex and interrelated challenges we face as a global society. We also customize information on SDG topics to the country in which you are running the program to increase the relevance for your audience.
The UbiSkills(TM) Foundation in Soft Skills Program is built to offer a fast-paced introduction to soft skills and UN SDGs. In doing so, we have incorporated a new methodology meant to reflect how students and employees learn in this new ubiquitous content environment. We have taken a carefully curated bank of videos, and created application exercises for your participants to discuss in class or in your workshops. All throughout the curriculum, we use examples of thinking processes used in most businesses, particularly high-tech firms, in order to familiarize students with techniques and skills they are likely to encounter as they enter the workforce or so employees can begin to use these tools at work to improve their performance.
Because of this non-traditional approach, the curriculum may feel like it "jumps" rapidly from topic to topic. This is intentional. If we are all going to continue to learn from resources we find on the Internet, then we need to think critically about the information we are consuming. By modeling this learning methodology, we are able to show students how to use various approaches to think through and apply what they are learning in these more informal settings.
Because soft skills are best learned in groups, the vast majority of the exercises include discussion blocks for students or employees to use to interact with each other and increase their capacity for communication and understanding of both themselves and their peers. At the same time, this program is meant to prepare students for the global workforce and improve performance for those who are already in it. This means the discussion blocks are timed, and each module is carefully laid out to ensure each three-hour block can be completed in the time allowed. Once you begin to implement the content, you also have the freedom to make it work for you.
We are excited about this program, and our current customers are too, as we use non-traditional means to teach individuals to handle a world of hyper-complexity and all that this entails. Once your participants go through the initial program, we also feature additional microcourses that can be taken on demand that offer a deeper dive into major topics such as Emotional Intelligence, Self-Leadership, Creating High-Performance Teams, Developing Creativity, etc. with an attendant Microcertificate in Practical Wisdom that can be earned as well through this partnership with your school or organization and Ubiquity.
Discover your own Superpowers with our Soft Skills Quiz FREE OF CHARGE!
Deploy the Foundation in Soft Skills and UN SDGs Program in Your Organization Today