Ubiquity University offers an integrated education product and service portfolio that users access through three main streams.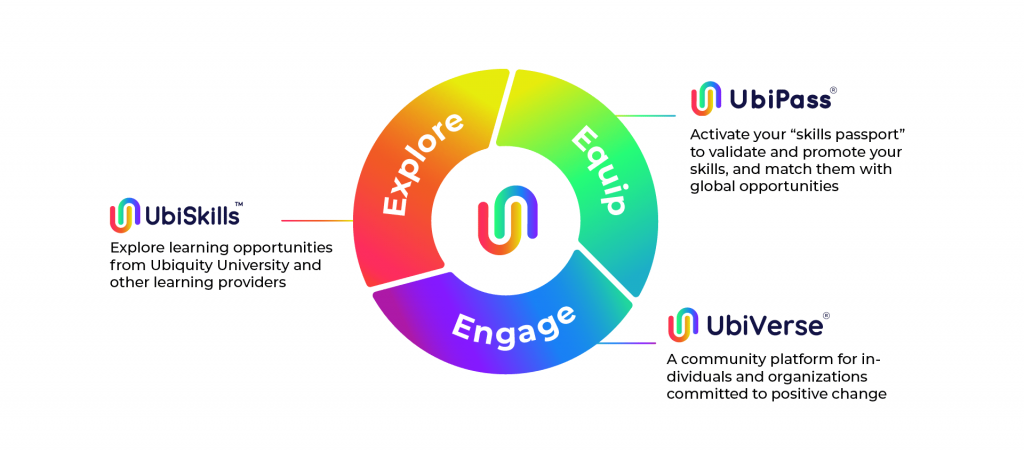 Explore learning opportunities from Ubiquity University and other learning providers.
A global provider of credentialed learning experiences – online, blended and in-person – designed to equip you with the mindset, skillset, and toolset to make a living, making a difference. Our Foundation in Soft Skills Program is being used by schools and institutions in multiple countries.
Degrees and independent study courses with opportunities for self-designing your educational journey with guidance from faculty. Explore Global Skills, Sustainability and Regeneration, Integral Transpersonal Psychology, Wisdom Studies, Future-proof Soft Skills, and more.
Activate your "skill passport" to validate and promote your skills, and match them with global opportunities
Your global "skills passport". 
A comprehensive record of  your skillset – acquired through work, life and formal study. Linked to global competency frameworks.  Your golden ticket to global recognition, meaningful employment and effective collaboration. 
Community platform for individuals and organizations committed to positive change
A hub for global communities of activists, learners and practitioners to come together and affect positive change. A place to connect, learn and amplify your impact.
No commercialization.
You own your data.
No third party ads.
Ethical standards.
Organizations and Partners