Location: On Zoom; All sessions will be recorded (except breakout groups)
Zoom Information: Once you have registered for this program, please ensure you are signed in to your account and return to this page to access the "Get Your Zoom Link" lesson at the very bottom of the page. You will get an email once the Zoom has been created, You must register separately on Zoom to get your participation codes and reminder emails.
Faculty: Rt. Rev. Mary Francis Drake, MA, MSW
Academic Credit: Masters – 1 credits; Doctoral – 1 credits
Enrollment: This course is available both to enrolled students and lifelong learners
Email our Registrar Veronica Saldias for more information
Course Description:
This micro course is an individual and group practical process arising from the content of the course Transforming from Midlife Woman to Wise Woman. This 4-session course could be considered a laboratory to that course in which the tools and skills for excavating the inner world and the archetypal wise woman will be presented and practiced.
In the first four sessions, participants witnessed their own stories and applied self-reflective and transformational exercises and approaches to their past, present and future lives. This transformative process reflected on what happened to us as women, what we did with it so far, and what we want for our individual and collective future.
In this next four sessions, we will continue with the creative process by initiating and/or developing the pathway to inner wisdom through meditation, mindfulness practices and creative processes to unearth the next layer of subconscious matter in the wisening/eldering process. The clarity that arises from this process will make space for embodying the wise woman archetype more fully and support participants in strengthening the ongoing process of self-reflection, self-understanding, and self-expression.
Faculty: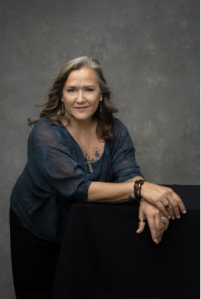 Rt. Rev. Mary Francis Drake, MA, MSW  is Senior Adjunct Faculty in the Psychology Department at the University of Massachusetts–Lowell Campus and Online. She has been teaching for UMASS Lowell for 35 years. Her teaching, private practice counseling and spiritual direction offerings have focused on women and raising the energy of the Feminine to restore our beings and our planet to balance. With 25 years as a Psycho-Spiritual Counselor, 17 years as a Priest, and now Bishop (2 years) in the Mystical Christian Tradition, Mary Francis continues to broaden her scope in the area of Conscious Evolution by ordaining independent Priests and offering spiritual direction to seekers. She is also a poet and author of 3 books related to her ecclesiastic training and its transforming power: This Much I Know Is True, 2016 (essay collection, amazon.com, lulu.com); beauty, grit & grace, 2018 (poetry collection, lulu.com); and Dancing in the Doorway: A Life's Journey Between Worlds, 2022, (purposeful memoir, amazon.com, lulu.com). Mary Francis is currently a doctoral student in Ubiquity University's Doctor of Ministry Program. She is also the mother of 3 young adult children. She has recently moved to Vermont to start a Queen Mothers Home for elderwomen to age in place with dignity and community, harvesting the gold of the elder years for the sake of future generations.
Weekly Sessions:
Week 1: Accessing the Unconscious Layers of the Psyche/Soul through Meditation
Through guided meditation and active imagination processes, we will acclimate to the ground of being from which our next lesson and expression of wisdom will arise.
Week 2: Mindfulness: Cultivating the State of Being Exquisitely Obedient to the Moment
Participants will be supported in aligning themselves with their highest knowing by staying in consistent contact with the present moment.
Week 3: Sadhana – Daily Practice to support Emerging Wisdom
Here participants will be exposed to a variety of daily practices that support consistent and ever deepening access to the spirit world and their own emerging process. Practices from a range of traditions will be shared and each participant will be supported in tailoring their daily practice to their own personal lives and spiritual traditions.
Week 4: Creative Expression as a Means of Self-Knowledge
Using creative modalities and symbolic expressions, we will bridge the communication divide between conscious and unconscious, thereby making a stronger and clearer means of staying tuned into the ever-unfolding process of the spirit.
Requirements for enrolled Degree students to earn 1 Credit:
Required Reading

Blackie, S. 'Hagitude: Reimagining the Second Half of Life'
Edwards, B. either 'Drawing on the Right Side of the Brain' or 'Drawing on the Artist Within'
End of course essay on describing the impact on your life of studying this material

For BA students – 6-9 pages in length
For MA students – 10-15 pages in length
For PhD students – 20-25 pages in length
___
The rules guiding our assignment collection and grading process can be found here: Ubiquity University Grading Policy
Information about how we process refund or cancellation requests can be found here: Refund and Cancellation Policy
If this is your first time purchasing from us, or you need a refresher, we suggest you review our tutorial How to Purchase a Course. If you do not have a user account, you will be required to create one upon your initial purchase. Save your username and password as you will need it to login to access course materials later and to make purchasing faster in the future. If you need technical assistance you can use the chat button located at the bottom, left-hand side of the screen and you can also email our Registrar, Veronica Saldias at registrar@ubiquityuniversity.org.