Where the Fire and the Rose Are One: Dante and the History of the Arts of the Western World
Course Description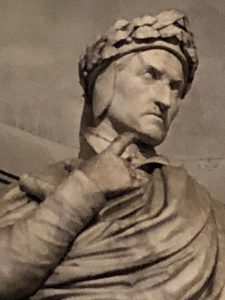 In honor of the 700th anniversary of Dante's Divine Comedy we will explore the relationships between Dante and the history of art, music, philosophy and poetry through a Depth Psychology and archetypal perspective to reveal how this epic poem has offered a profound map of a universal development and transformation throughout the centuries.
Schedule
Week 1 • Inspiration and Obsession: Dante, Rodin and Rossetti
Rodin's life-long obsession with Dante and the Divine Comedy was the source of many of his most magnificent creations. In this riveting ninety-minute art and culture salon we will explore the fascinating story of how Dante's genius leaped across the centuries to inspire Rodin as he created his most the iconic masterpieces, including "The Thinker" — a work originally titled "The Poet" that was his portrait in bronze of Dante in the act of dreaming up the Divine Comedy. We will discover the dramatic story of how the tumultuous relationship between Rodin and his muse and collaborator Camille Claudel bore an uncanny parallel with the characters they were carving that depicted the doomed lovers of Dante's circle of Lust.
Recommended viewing in preparation: the film Camille Claudel
Week 2 • TS Eliot and Dante
The great 20th century poet TS Eliot was so profoundly shaped by Dante's vision that he learned Italian to read the text in the original language. References to Inferno and Purgatorio abound throughout his work, and his own inner journey was shaped by the vision of personal transformation Dante offers. On the anniversary of TS Eliot's birth, we will pay particular attention to the parallels between the Divine Comedy and Eliot's final masterpieces, "Little Gidding."
Week 3 • St Francis, Dante and Giotto
At the very time that Dante was writing his epic poem, Giotto Bonadone was painting the Scrovegni Chapel and the Frescoes of the Life of St. Francis. We will discover what these masterpieces have in common—and how the life of St. Francis guided both creations as an icon of hope. Both Dante and Giotto were so moved by Franciscan spirituality that they became members of the Third Order, a confraternity of lay members dedicated to serving the world. We will also explore Canto 11 of Paradiso where Dante offers us a vision of Francis' life and teachings that can help guide us to reconciliation and wisdom in our own lives.
Week 4 • Dante and Franz Liszt
Franz Liszt was by many accounts the most celebrated piano virtuoso of all time . A child prodigy from Hungary who received Beethoven's benediction at the age of 11, he had a scandalous youth, with a flamboyant and tempestuous life as a playboy. Through a Russian muse, Liszt was introduced to Dante and his subsequent immersion into the Divine Comedy constellated a profound inner awakening, leading him to a maturity marked by astonishing generosity, devotion and humility. We will explore the impact of the Divine Comedy on Liszt's piano and symphonic works, but perhaps more moving still, the impact that Dante had on Liszt in creating his "tripartite life" as teacher, philanthropist and eventually, monk.
Requirements for enrolled Degree students to earn 1 Credit:
End of course essay regarding the learnings in this course weaving together content from the lectures, any study you do on your own, and your experiences related to the entire course. Artistic work is welcome to supplement your paper. Papers should be written in APA style, with footnotes.

For BA students – 6-9 pages in length
For MA students – 10-15 pages in length
For PhD students – 20-25 pages in length
Pricing:
BA Level: $100
MA Level: $200
PhD Level: $300
Audit-No Credit: $80 (no credit, access to course materials only)
Our shopping cart is simple and easy to understand. If you do not have a user account, you will be able to create one upon purchase. Save your username and password as you will need it to login to access course materials later. For more detailed, step-by-step instructions you can review our tutorial How to Purchase a Course. Again, if you experience any issues, please email Veronica Saldias at registrar@ubiquityuniversity.org.
The rules guiding our assignment collection and grading process can be found here: Ubiquity University Grading Policy
Information about how we process refund or cancellation requests can be found here: Refund and Cancellation Policy.
Faculty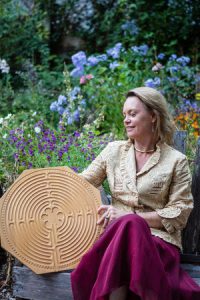 Described by Rev. Dr. Lauren Artress as "A true Renaissance woman," Kayleen Asbo is a scholar, composer, musician, poet, cultural historian and spiritual director who holds three advanced degrees in the fields of Mythology, Music and Psychology. Kayleen is the Artistic Director for the Mythica Foundation for the Arts and she has been on the faculties of the Pacifica Graduate Institute, UC Berkeley and Dominican University, where she has taught courses on subjects ranging from the History of Christian Mystics to Jung and the Red Book, from Dante to Beethoven and the Hero's Journey. She has been a keynote lecturer on Mary Magdalene and the Sacred Feminine for the Assisi Institute of Depth Psychology in Italy, at Chartres Cathedral in France, the Graduate Theological Union in Berkeley and throughout the world for spiritual centers, churches and psychological organizations and has been a featured speaker at the conference on Women and History at Oxford University in England. Dr. Asbo will be offering a virtual pilgrimage in the footsteps of Mary Magdalene and the Sacred Feminine this summer for Ubiquity University and the Wisdom School.
Archived Webinars Contact Information:
Archived Webinars are completely on-demand for your convenience. If you have questions or require additional assistance, click the "Chat" button down on the left-hand side of the screen, and submit your question. Our help desk will respond as soon as possible. Please do not email faculty directly with any technology or registration issues.