Dates: Jan 18, 25, Feb 1, 8 at 10:00 AM PST
Location: On Zoom; All sessions will be recorded (except breakout groups)
Zoom Information: Once you have registered for this program, please ensure you are signed in to your account and return to this page to access the "Get Your Zoom Link" lesson at the very bottom of the page. The Zoom link will be added 2 weeks before the sessions.. You will then also get an email once the Zoom has been created, You must register separately on Zoom to get your participation codes and reminder emails.
Faculty: Rt. Rev. Mary Francis Drake, MA, MSW
Academic Credit: Masters – 1 credits; Doctoral – 1 credits
Enrollment: This course is available both to enrolled students and lifelong learners
Email our Registrar Veronica Saldias for more information
Course Description:
This micro course will include an overview of the stages of female development from a psycho-spiritual perspective.  Participants will witness their own stories and apply self-reflective and transformational exercises and approaches to their past, present and future lives.  This transformative process will reflect on what happened to us as women, what we did with it so far, and what we want for our individual and collective future.  The focus of each week will be on one of the 4 integral aspects of growth ( Wilber), moving participants through the personal narrative approach of past, present and future authoring (Peterson).  The creative power of this journaling/personal narrative approach (or other creative expressions students may apply) will aid in self-understanding, self-compassion, and self-empowerment.  The clarity that arises from this process will make space for embodying the wise woman archetype and expressing it in your own unique way as you offer your gifts to the world.
Faculty: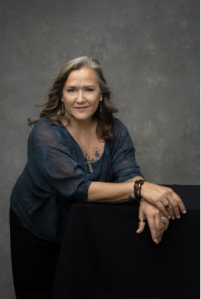 Rt. Rev. Mary Francis Drake, MA, MSW  is Senior Adjunct Faculty in the Psychology Department at the University of Massachusetts–Lowell Campus and Online. She has been teaching for UMASS Lowell for 35 years. Her teaching, private practice counseling and spiritual direction offerings have focused on women and raising the energy of the Feminine to restore our beings and our planet to balance. With 25 years as a Psycho-Spiritual Counselor, 17 years as a Priest, and now Bishop (2 years) in the Mystical Christian Tradition, Mary Francis continues to broaden her scope in the area of Conscious Evolution by ordaining independent Priests and offering spiritual direction to seekers. She is also a poet and author of 3 books related to her ecclesiastic training and its transforming power: This Much I Know Is True, 2016 (essay collection, amazon.com, lulu.com); beauty, grit & grace, 2018 (poetry collection, lulu.com); and Dancing in the Doorway: A Life's Journey Between Worlds, 2022, (purposeful memoir, amazon.com, lulu.com). Mary Francis is currently a doctoral student in Ubiquity University's Doctor of Ministry Program. She is also the mother of 3 young adult children. She has recently moved to Vermont to start a Queen Mothers Home for elderwomen to age in place with dignity and community, harvesting the gold of the elder years for the sake of future generations.
Weekly Sessions:
Week 1:  Clean Up:  'What happened to you?' – Witnessing and Healing Our Wounding
The first session will be a review of the psychological and neurological perspectives of trauma and reactive patterning.  There are certainly many barriers to the free and healthy growth of the feminine psyche in our culture.  From abuse, oppression and misogyny to inequality of gender rights and expressions, these barriers and negative patterning much be acknowledged and understood in order to heal.   Along with this we will explore the tool of the Personal Narrative and write our own stories as a way of affirming our experience.
Week 2:  Grow Up:  'What did you do with it? – Recognizing the Lay of the Land in Women's Psycho-spiritual Development
In session two we will look at the persisting patterns of the unhealed psyche and how to reprogram them to support our well-being.  Shedding the cultural and internalized oppression of women is challenging but essential work.  The worldviews we take on must be challenged and replaced with a larger, more holistic and inclusive paradigm of the feminine psyche and role in society.  Beyond the insidious beauty contest that women quickly age out of, there is a level playing field where women can support one another in finding and expressing their unique identity.
Week 3:  Wake Up:  'Who are you really?' – Taking on the power and wisdom of the Feminine
In session three, we will look deeply into the blood mysteries of the feminine and the insights, intuitions and wisdom they bring.  We will also explore the 'feminine' aspects of all humans and how they can be brought into balance with the dominant male culture's conditioning of all of us.  The rise of the elderwoman, the wise woman, is a necessary factor in bringing our world back into balance.  As each woman takes on that wisdom, each can make an essential and unique contribution to the more beautiful world our hearts know is possible (Eisenstein).
Week 4:  Show Up:  'And now what will you do?' – Bringing your unique voice and gift to the world
This final session will be a chance to dream big and imagine with intention the wise woman you are or want to grow into.  Too often women of a certain age are dismissed in our society.  We will learn about reclaiming the role of wise woman, cultural creative and crone.  Articulating or producing a creative expression of what we want if the first step in manifesting that reality for ourselves and our world.  With clear intention and focused attention, the movement of creative forces will begin to draw power toward the vision that each and all of us hold for that more beautiful world to come into full manifestation.
Requirements for enrolled Degree students to earn 1 Credit:
End of course essay on describing the impact on your life of studying this material

For BA students – 6-9 pages in length
For MA students – 10-15 pages in length
For PhD students – 20-25 pages in length
___
The rules guiding our assignment collection and grading process can be found here: Ubiquity University Grading Policy
Information about how we process refund or cancellation requests can be found here: Refund and Cancellation Policy
If this is your first time purchasing from us, or you need a refresher, we suggest you review our tutorial How to Purchase a Course. If you do not have a user account, you will be required to create one upon your initial purchase. Save your username and password as you will need it to login to access course materials later and to make purchasing faster in the future. If you need technical assistance you can use the chat button located at the bottom, left-hand side of the screen and you can also email our Registrar, Veronica Saldias at registrar@ubiquityuniversity.org.