Dates: Thursdays, January 16, 23, 30 and February 6, 2020 at 8:00 AM Pacific time
Format: 4 live webinars, video recordings accessible afterwards
Faculty: Brenda Crowther, MA, Diploma in Analytical Psychology, with Gyorgyi Szabo, PhD
Academic Credit:  Bachelors, Masters and Doctoral – 1 credit
The Red Book: A Record of the Soul's Journey of Carl Jung
Webinar Description
The Red Book records Jung's journey into the Beyond, the deeper realm of the collective unconscious between the years 1913 to 1930: a non-personal psychic realm where nothing of personal identity or experience lives.  It is the land of the forgotten gods that come in dreams and visions, the energies that want to speak with us, which are cut off by our rational life. This journey needs a companion. Jung was protected and helped by a sensitive woman called Toni Wolff, helping him make sense of his visions and struggles. This was the basis of all Jung's work in the future. He was not the hero of his task; rather his work is based on relatedness. The foundation of Jung's work is therefore Eros or love. In this way we introduce the Red Book.
Required Reading for Degree Students
• C G Jung, edited by Sonu Shamdasani, The Red Book, Liber Novis
(This is the original facsimile edition with text and all the paintings. It is a very beautiful large format book (39cm x 30cm) and expensive – at least $100, though you may pick up a second hand one)
• C G Jung, edited with an introduction by Sonu Shamdasani, The Red Book, Liber Novus, A Reader's Edition
(This edition is text only and quite good. Combine this with the images found on the internet by googling 'Red Book pictures')
• Conceived and edited by C G Jung, Man and His Symbols
• Nan Savage Healy, Toni Wolff and C G Jung: A Collaboration
• C G Jung, Answer to Job (A slim volume: an extract from Volume 11 of Jung's Collected Works)
• Marie-Louise von Franz, The Feminine in Fairy Tales. (A good introduction to the feminine aspect of the psyche)
• Stephan Hoeller, The Gnostic Jung and the Seven Sermons to the Dead of C G Jung
Post-Papers
Students taking the course for credit should submit a post paper to Dr Gyorgyi Szabo. Masters level post-papers should be between 10-15 pages in length, and Doctoral level 20-25 pages. Papers should be written in APA style with footnotes.
Faculty

Brenda Crowther is a Jungian analyst and writer who has lectured extensively in the UK, Switzerland and Germany, and published many articles. She initially studied painting in London, has exhibited her work, and taught for some years at Brighton University.  She has an MA in French Philosophy and studied to be a Jungian analyst in London and a depth psychologist in Switzerland. She lives in the medieval town of Tournus, Burgundy, in eastern France. Brenda has studied The Red Book since it was published in 2009, and from the very beginning it filled her with wonder.  She has given seminars and lectures on this wonderful book, which has also inspired her studies in psychological alchemy as a path of transformation.  In London she held a reading group of the book, where every word was read aloud, which lasted for seven years. At present she is preparing a book on the subject of alchemy woven into her individual and transformative path through life, and inspired by The Red Book.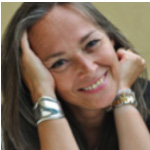 Gyorgyi Szabo, PhD serves as Ubiquity University's Dean of Graduate Studies and Director of Research. She was a Co-Founder and Academic Dean of the Ervin László Center for Advanced Study (ELCAS). She served as Director of Research and Development of the Center's Exploratoria Program. She was co-creator of the WorldShift International Foundation, and the WorldShift 2012 organizations, and currently serves as Member of the Advisory Board of the Memnosyne Foundation. In 2012, she founded and now serves as a President of UniverSoul, a Hub for Conscious Evolution in Paris, in association with Barbara Marx Hubbard. Gyorgyi lectures worldwide and has published papers in The Scientific and Medical Network's Review, The Shift Network, and World Futures: The Journal of New Paradigm Research. She translated from Italian to English The Basic Code of the Universe: The Science of the Invisible of Physics, Medicine and Spirituality by Dr Massimo Citro.