The Four Winds Shamanic Journeys
Course Description:
In these four sessions, you will learn about the ways of the Andean Shamans, the power animals that represent each direction, and how each animal can empower you on your journey. In our first session, you will learn about the serpent and how it can teach you to shed your skin and let go of the past. In the second session, you will learn about the Jaguar and how you can walk in life with no fear! The third session will focus on the Hummingbird, where you will learn about the sweetness of life and its lessons of perseverance and patience. In our fourth session, you will learn about the condor and how it can teach you to rise above and see the greater picture of life, and from this higher place, you can make better-informed decisions.
Learning Outcomes:
The Q'eros are direct descendants of the Incas, and each of our sessions are based upon the Q'ero tradition. You will gain insights into their history and lineage, which will help you better understand their healing modalities. In each session you will experience a shamanic journey.
By the end of this course, you should be able to:
Identify and (apply) the healing properties of the Inca animal totem.
Determine and utilize power animal(s) for support and to nurture energetic balance.
Describe, compare and contrast western tools to release old contracts with the ways of the Q'ero Shamans. Identify the ways in which these tools offer support both on a personal and professional level?
Outline the impact a heightened awareness and accountability of thoughts, words, actions, and intentions can have on a micro and macro level of consciousness.
Demonstrate the teaching of condor; utilize expanded/elevated perspective in decision-making.
Weekly Schedule
Week 1 • South Serpent
The serpent has a special connection with Mother Earth in the Q'ero tradition, always belly to belly with her energy. This session focuses on the inner journey to the lower world, where we learn the ceremonies of recovering old contracts. These contracts, created in the past, often hold us back from stepping into our whole Self. Contracts are promises we have made to ourselves while living in emotional pain. The inner journey allows us to free ourselves from the patterns in our lives that are no longer serving us.
Week 2 • West Jaguar
The Jaguar's presence is not only powerful; it is awe-inspiring. Reestablish your inner strength, clarify a new way of walking in the world, and set new personal goals by connecting with nature through shamanic journeys. Move from a place of fear to a place of expansion while always maintaining a deep connection to Self. The Jaguar teaches to have no fear in this world or the next, and with this predisposition, you will begin to discern the subtleties between fear and intuition as a new way of being.
Week 3 • North Hummingbird
The majestic hummingbird represents the north for the Q'ero Shamans of Peru. The medicine of hummingbird teaches us the sweetness of life and how to set healthy boundaries. Hummingbirds have the unique ability to fly backward, which represents the ability to heal the past. As they migrate from Florida to the Yucatán Peninsula in Mexico, hummingbirds travel a remarkable distance of 2 1/2 thousand miles! In session three, we learn perseverance, courage, and how to believe in ourselves no matter how long the journey may be.
Week 4 • East Condor
Inti Tai is Quechua for Father Sky, and the Q'eros believe that the condor flies wing to wing with the great spirit. Condor teaches how to fly high above your everyday life to see the greater picture, and from there, make better-informed decisions. In this session, the condor energy offers an opportunity to spiral upward and learn how to see your future destiny line with clarity and ease.
Requirements for enrolled Degree students to earn 1 Credit:
Required Reading
End of course essay describing the impact on your life of studying this material
For BA students – 6-9 pages in length
For MA students – 10-15 pages in length
For PhD students – 20-25 pages in length
The rules guiding our assignment collection and grading process can be found here: Ubiquity University Grading Policy
Faculty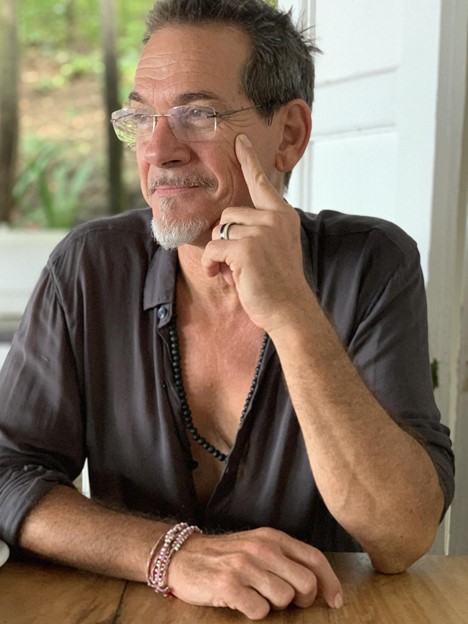 Ray Crist has spent the last three decades immersed in shamanism, various styles of yoga, Chinese medicine, martial arts, and Reiki. He has been offering workshops and trainings at Kripalu Center for Yoga and Health, NY Open Center, Yoga Journal, Blue Spirit, Bodhi Tree Yoga Resort and around the globe for over 15 years. Ray's trainings focus on how to use shamanic tools and yoga as technologies that assist us to reach an optimal state of being in order to live a balanced, empowered and extraordinary life.
Questions: Please do not email faculty directly with any technology or registration issues. If this is your first time purchasing from us, or you need a refresher, we suggest you review our tutorial How to Purchase a Course. If you do not have a user account, you will be required to create one upon your initial purchase. Save your username and password as you will need it to login to access course materials later and to make purchasing faster in the future. If you need technical assistance you can use the chat button located at the bottom, left-hand side of the screen and you can also email our Registrar, Veronica Saldias at registrar@ubiquityuniversity.org.
Information about how we process refund or cancellation requests can be found here: Refund and Cancellation Policy
Archived Webinar Contact Information:
Archived Webinars are completely on-demand for your convenience. If you have questions or require additional assistance, you may click the "Chat" button on the lower, left-hand side of the screen, and submit your question. Our help desk will respond as soon as possible.