Workshop Description: Recorded Nano course: 58min conversation between V and Jim Garrison on "The Apology"
The Apology by V (formerly Eve Ensler)

V (formerly Eve Ensler) speaks about her experience in writing her bestselling book The Apology. V was severely sexually, physically and emotionally abused by her father who never apologized for what he had done. For 31 years after his death, V was still longing for the apology that never came so she created a process whereby she communed with her father and transformed the wounds she has suffered into understanding, empathy and reconciliation.
Faculty: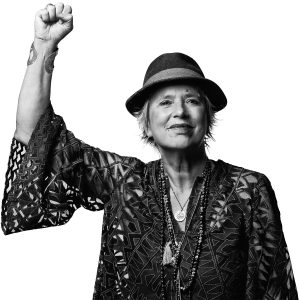 V (Formerly Eve Ensler) is the Tony award-winning playwright and author of the Obie award-winning theatrical phenomenon The Vagina Monologues translated into 48 languages and performed in 140 countries along with many other plays. She is the author of a number of books including her latest bestsellers, The Apology, translated into more than 15 languages, and In the Body of the World as well as The New York Times bestseller, I am an Emotional Creature. She starred on Broadway in The Good Body, and most recently Off-Broadway at Manhattan Theatre Club in the critically acclaimed, In the Body of the World. During the Covid 19 pandemic, she helped create That Kindness: Nurses in Their Own Words presented by Brooklyn Academy of Music in accordance with theaters all across the country; a tribute to nurses during the COVID 19 pandemic. She's currently writing the book and co-writing lyrics for a new musical, Wild that will make its world premiere this December, at The American Repertory Theater. She is founder of V-Day, the 23-year-old global activist movement which has raised over 120 million dollars to end violence against all women (cisgender and transgender), those who hold fluid identities, nonbinary people, girls, and the planet—and founder of One Billion Rising, the largest global mass action to end gender-based violence in over 200 countries, as well as a co-founder of City of Joy. She writes regularly for The Guardian.

Pricing:
Our shopping cart is simple and easy to understand. If you do not have a user account, you will be able to create one upon purchase. Save your username and password as you will need it to login to access course materials later. For more detailed, step-by-step instructions you can review our tutorial How to Purchase a Course. Again, if you experience any issues, please email our Registrar at registrar@ubiquityuniversity.org.
Information about how we process refund or cancellation requests can be found here: Refund and Cancellation Policy
Archived Workshop Contact Information:
Archived Webinars are completely on-demand for your convenience. If you have questions or require additional assistance, you may click the "Chat" button on the lower, left-hand side of the screen, and submit your question. Our help desk will respond as soon as possible.