Dates: Wednesdays May 10, 17, 24, 31; 16.00-19.00 CET
Location: On Zoom; All sessions will be recorded (except breakout groups)
Zoom Information: Once you have registered for this program, please ensure you are signed in to your account and return to this page to access the "Get Your Zoom Link" lesson at the very bottom of the page. The Zoom link will be added 2 weeks before the sessions.. You will then also get an email once the Zoom has been created, You must register separately on Zoom to get your participation codes and reminder emails.
Faculty: Ing. Arnold Nageler, Michael Oswald
Academic Credit: Masters – 1 credits; Doctoral – 1 credits
Enrollment: This course is available both to enrolled students and lifelong learners
Email our Registrar Veronica Saldias for more information
The Hack Yourself program is an ​​Integral approach to the Amatsu Tatara Shinden. Amatsu Tatara was first written down within the ancient records of Japan 500 AD. It covers many aspects of life, drawing from the martial, medical, spiritual and geographical lineages. It survived to this day through changing and developing to meet changing times. In Modern-day Magic we are evolving an integral approach to the Amatsu Tatara Shinden. You can also think of it as the art of protecting yourself physically, emotionally, and energetically. This micro-course is part of the Modern-day Magic program. There are no prerequisites for this course.
By the end of the full Modern-day Magic: Hack Yourself program (3 Micro Courses) you will be able to:
Protect yourself on a physical, emotional and energetic level

Use self treatment to avoid and correct many everyday life problems – physically and emotionally

Know yourself better and respond with more ease to the challenges of life and your environment

Feel Happier, Healthier and more Capable

Explain how and why these practices work
By the end of this Part 3 Micro-course, you will be able to
Treat yourself on a basic level physically, energetically and emotionally

Read information in your body and change it if necessary

Be more self-aware and observe yourself better

Sense more of the subtle realm

Feel Happier, Healthier, more Capable
The components of Hack Yourself Part 3 include:
Shadow work

Self-treatment approaches and exercises

Meridians

Bodu Principles and Practices

Emotional and informational protection

Homework exercises and journal
Faculty: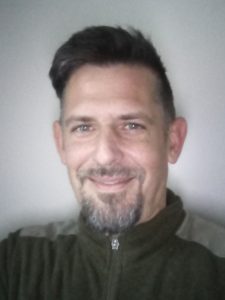 Ing. Arnold Nageler is core faculty for the Hack Yourself courses. He worked as a mechanical engineer in installation technology and civil engineering for around fifteen years, on site, as well as being a salesman in the area.
He has been training in Martial Arts and Japanese natural Medicine for over 20 years, and holds a master teacher degree in both. The studies of Japanese medicine led him to study therapeutic massage, including many different Western and Eastern approaches and techniques. In this he founded a new life – treating patients, giving courses in Martial Arts, Amatsu Ryoho, Self-Hacking and development, communication, body language and natural movement.
He is the highest ranked Amatsu Ryoho practitioner in Austria. On his journey he has been involved with several native Traditions, mainly Shinto – Japanese Tradition, the Lakota Tradition, and Hungarian and Mongolian Traditions. He guides Vision Quests and gives Sweat Lodge Rituals based on the Lakota Traditions. Arnold integrates music, dancing, carving, drawing, painting and reading in his life and does all kinds of research to develop a bigger picture. He is married, has a daughter and lives in Austria.
Michael Oswald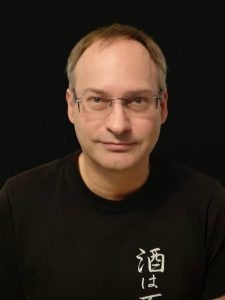 is core faculty for the Hack Yourself courses. He holds an MSc in computer science and works in the space industry as senior expert for mission control systems and satellite testing.
He has been training in Japanese martial arts and Japanese medicine for more than 20 years and is head of the Austrian Association for Promotion of Amatsu Ryoho (a special Japanese Medicine), for which he also holds a teachers degree. He is also qualified in western therapies (massage, NLP master practitioner) and has been training and using other disciplines like EMDR, psycho-kinesiology, systemic therapies and shamanism.
Through the NLP training he became engaged with Integral Metatheory and uses it as his main tool for development, teaching, treating and work. He has held several talks and run courses about Integral Metatheory and how to apply the principles in real life. He is also a musician playing guitar, a little bit of keyboard and is trying out vocals by writing, arranging and producing his own music.
Requirements for Degree Students:
End of course essay on describing the impact on your life of studying this material

For BA students – 6-9 pages in length
For MA students – 10-15 pages in length
For PhD students – 20-25 pages in length
___
The rules guiding our assignment collection and grading process can be found here: Ubiquity University Grading Policy
Information about how we process refund or cancellation requests can be found here: Refund and Cancellation Policy
If this is your first time purchasing from us, or you need a refresher, we suggest you review our tutorial How to Purchase a Course. If you do not have a user account, you will be required to create one upon your initial purchase. Save your username and password as you will need it to login to access course materials later and to make purchasing faster in the future. If you need technical assistance you can use the chat button located at the bottom, left-hand side of the screen and you can also email our Registrar, Veronica Saldias at registrar@ubiquityuniversity.org.