Course Description:
We have advanced well into the Anthropocene, an era where humans are causing our planet to change. After having been predicted by scientists decades ago, these changes are now becoming clearly visible all around our planet, affecting millions of people. Nature has been harmed to a point where sustainability is not achievable anymore. We are already crossing several tipping points which could exponentially accelerate changes that will not allow for humans to live on this planet. The latest IPCC report leads to a common understanding that we are in 'Code Red'; recent reports on biodiversity loss, soils, pandemics and many others are all coinciding with a path of planetary collapse.
In this course, we will review what the major changes are and understand what is causing them. We will start by understanding how reductionist knowledge management has made it difficult to understand complexity. We will look at different approaches to define regeneration and their practical applications.
Special attention will be given to the conceptual framework of regeneration developed by me over the last decade. This will require us to immerse ourselves in the integration of transdisciplinary approaches and develop a new understanding that allows us to move forward to regeneration, and will look through different methods, tools and principles that can be used to revert the damage done and support a flourishing future. Students will be presented with different networks that will allow them to actively engage in regeneration efforts around the globe.
Nature has proven to be extremely resilient, with the ability to regenerate itself if allowed to. We know that if we act fast and at a global scale, we still can solve the major challenges and co-create a flourishing future, for all life forms, including ours. We will have a close-up look at what different initiatives around the globe are demonstrating how regeneration can be achieved.
Learning Outcomes:
By the end of this course you should be able to:
Clearly identify and understand the main challenges humanity is facing and the underlying causes.
Apply holistic approaches to understand system complexity and identify solutions.
Use the general overview to continue your learning journey to actively participate in the co-creation of solutions by integrating your previous professional experience in regenerative action.
Be aware of different networks which are regenerating around the planet that could provide future engagement opportunities.
Faculty: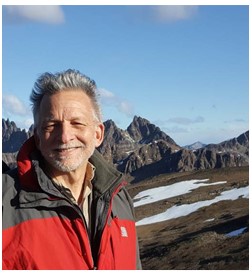 Eduard Muller, PhD is Founder and rector of the University for International Cooperation since 1994 working on permanent innovation in education, leading UCI to be a pioneer in online education in over 60 countries. He has overseen the launch of many innovative programs in many different fields. He has visited over 90 countries and carried out professional activities in more than 35 of them on all continents, having given more than 300 international conferences across five continents in recent years on global change and regenerative development.
He is currently globally recognized for his work in Regenerative Development leading the Regenerate Costa Rica initiative to convert the country into the first actively regenerative nation. He is a member of the Global Council for the Wellbeing Economy Alliance and the Bounce Beyond project. He was a member of the Scientific Council for Climate Change of Costa Rica and country negotiator at the Convention of Biological Diversity. He is also the chairholder of the UNESCO Chair for Biosphere Reserves and Natural and Mixed World Heritage sites.
Course Modalities:
Non-Credit Options
Lite Level – This course is delivered on-demand with no faculty interaction and is perfect for lifelong learners who want to go at their own pace and who are not interested in academic credit but still want to experience the course.
Audit-No Credit – If you would like to participate when this course is offered in our Live Virtual Classroom mode, you may attend the live faculty webinars but will not be required to submit assignments for credit.
If you take a few courses and decide you want to officially enroll in a degree program, you can gain academic credit for Lite versions or Audit-No Credit versions by paying the difference between these course fees and a normal academic fee, successfully completing quizzes, submitting your reflection journals and delivering a Final Creative Assignment that will be graded.
For-Credit Options
Live Virtual Classroom: Study that takes place within Ubiquity University, in which Ubiquity academic coursework is accomplished through attendance in Live Webinars, with faculty and student interaction being a part of the Live Webinar content. To receive academic credit, you must not miss more than 3 live sessions, you must complete the quizzes and submit any other required assignments (if any), and a final creative assignment for grading at the degree level you are enrolled in.
Internal Online Independent Study: Study that takes place within Ubiquity University, in which Ubiquity academic online coursework is engaged in independently on one's own and does not include faculty interaction. To receive academic credit, you must complete the quizzes and submit your reflection journals and final creative assignment for grading at the degree level you are enrolled in.
The rules guiding our assignment collection and grading process can be found here: Ubiquity University Grading Policy
Our shopping cart is simple and easy to understand. If you do not have a user account, you will be able to create one upon purchase. Save your username and password as you will need it to login to access course materials later. For more detailed, step-by-step instructions you can review our tutorial How to Purchase a Course. Again, if you experience any issues, please email Veronica Saldias at registrar@ubiquityuniversity.org.
Information about how we process refund or cancellation requests can be found here: Refund and Cancellation Policy
We allow students at all academic levels to participate in our online courses. However, those students who are enrolled in MA or PhD programs are expected to offer a more sophisticated analysis on reflection tasks, writing assignments, and in the final creative assignment. You will be graded commensurate with your degree level. Except for the Final Creative Assignment, word counts are offered as guidelines. If you need to exceed the word counts to submit an MA or PhD level response, you may feel free to do so as long as the word count expansion is reasonable and necessary.
Course Contact Information:
Live Virtual Classroom macrocourses are delivered by faculty in live Zoom sessions. You will have a course facilitator who is available to answer questions and offer additional assistance and that information will be provided to you upon registration. Please do not email faculty directly with any technology or registration issues.
For on-demand lite or Internal Online Independent Study versions, click the "Chat" button down on the left-hand side of the screen for any technical issues or questions you may have about the content.