[vc_row][vc_column][vc_column_text]An artist can use art to enable people to enter a spiritual plane of consciousness that supports them in communing with their own individual interpretation of God or Spirit. According to our deepest and most ancient spiritual traditions wisdom, creativity, and healing are intimately connected. It is wisdom that concerns our relationship to the whole, to the cosmos, to nature, and to both feminine and masculine powers of nature. Theologian Matthew Fox views wisdom and creativity as being inseparable, and believes that "creativity may be the nearest one-word definition we possess for the essence of our humanity, for the true meaning of 'soul'."


Dates: Fridays from April 12 – May 17, 2019
Location:  Live Weekly Webinars
Faculty: Calen Rayne, MFA, DMin and Laura Esculcas, MA
Academic Credit:  Ubiquity University BA & Masters – 2 credits; The Wisdom School (WS) Doctoral – 2 credits
This course consists of 6 weekly webinars on Fridays at 10-11:30am PST for 90 mins. 
Energetics of Art
This course provides 9 hours of direct contact with faculty, and requires a minimum of 9 hours of assignments, including reading, writing and practice. Students receive 2 units for this course.
April 12 – Introduction:  What determines the energetics of a particular artistic creation? Discuss dowsing methods to ascertain and quantify energetic components of artistic process. Discuss how to create a portable altar using design elements from course.
Faculty: Calen and Laura
Primary Text for Course:  The Mission of Art by Alex Grey
Assignment: Create various altars using objects and art from your own life. Photograph to share.
April 19 – SoulCollage® as a Sacred Doorway: SoulCollage® is a process of intuitively selecting found images and collaging them on to cards. In SoulCollage®, a process developed by Seena Frost, images act as a bridge or sacred doorway to one's inner wisdom. This week involves instruction in the construction of cards and the process of giving voice to inner wisdom through the medium of the collage card by using simple exercises.

Faculty: Laura
Primary text: Soul Collage by Seena Frost
Assignments: Create three SoulCollage® cards and mine their wisdom by applying the exercises learned in the course.


April 26 – Uses of Sacred Symbol (Hierograms): Instruction in basic contemplative brush strokes with ink and acrylics. Practice of painting five geometric symbols: circle, square, triangle, equidistant cross, spiral.
Faculty: Calen
Text: Signs of Life: The 5 Universal Shapes & How to Use Them, by Angeles Arrien.
Assignments: Continue practice with sacred geometry symbols.
May 3 – The Art of Haiku: Exploration of elements of haiku and how to use haiku for dream work, creative writing, and other artistic modalities.
Faculty: Calen
Primary text: Haiku Book
Assignments: Compose ten haiku.
May 10 – Art of the Sacred Path: Exploring labyrinths through drawing, writing and metaphor. Unlike a maze, the labyrinth has only one path that spirals to the center. The labyrinth offers a metaphor for the sacred journey, and will be explored through drawing and writing labyrinths. (Downloadable labyrinth patterns will be provided.)
Faculty: Laura
Primary text: The Sacred Path Companion: A Guide to Walking the Labyrinth to Heal and Transform, by Lauren Artress
Assignments: Practice drawing the classical 7-circuit labyrinth from it's seed pattern until you can do freehand easily without looking at the guide (draw it at least ten times). Using any of the labyrinth patterns provided, complete at least three labyrinth-writing exercises.
May 17 – Bringing it all together: Sharing our final projects – our portable altars and ritual outline we have created to go with them. Guidelines for supporting sacred practice with art.
Faculty: Laura and Calen

Materials 
Sketch Pad
Black ink (small bottle)
Paint brushes (Oriental style preferred)
Assorted paints (acrylic preferred, watercolors acceptable)
Magazines for collage images
Old newspapers
Copy paper
Learning Objectives
By the end of the course you will understand:
What determines the energetics of a particular artistic creation.
Basic vibrational radiesthesia (dowsing) techniques to ascertain and quantify energetic components of the artistic process.
The Bovis scale and how to use it to measure the energy frequencies of art.
How to create SoulCollage ® cards and mine their wisdom with the SoulCollage® process.
How to use contemplative brush strokes to paint basic sacred symbols.
The key elements of haiku and how to use haiku for dream work, creative writing and other artistic modalities.
What a labyrinth is, how to draw a classical labyrinth and what the labyrinth offers for the artist's journey.
How to use these various artistic and energetic techniques in your own artistic process and to create and use a portable altar.

 Faculty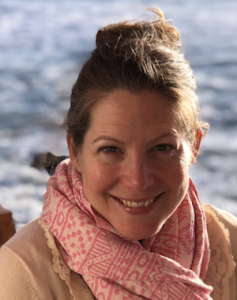 Laura Esculcas
B.A., Cal Poly Pomona
M.A, Wisdom University
With passion for myth and metaphor, Laura curates wisdom journeys and immersion experiences in Portugal's mystical landscape. Laura is a Labyrinth Practitioner at the Penha Longa Spa, a Signature Retreat Collaborator at The Sanctuary Portugal, Wisdom University Faculty for Portugal pilgrimages, and a guide to sacred sites in Portugal. A self-proclaimed "life adventurer," Laura believes in bringing a sense of the sacred to everyday living. In workshops and pilgrimages, Laura invites participants to explore practices for experiencing sacred space in our secular time. She is an Advanced Certified Labyrinth Facilitator, a member of the Veriditas Council, and a SoulCollage® facilitator. Originally from the US and having worked in Silicon Valley for over ten years in high tech operations and management, Laura moved to Portugal to pursue her dream of an integrated life lived as a sacred journey shared with others. Now informed by ten years of immersion in the Portugal ecofield, Laura uniquely blends her knowledge, experiences, and genuine open-heartedness as she facilitates wisdom journeys into Portugal's place-based myths. Laura speaks English and Portuguese and lives near Lisbon with her husband and their two dogs.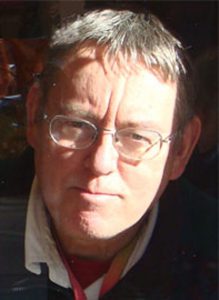 Calen Rayne
B.A., Purdue University
MFA, Naropa University
D.Min. Wisdom University
Rev. Dr. Rayne is a Unitarian Universalist Lay Community Minister in Bar Mills, Maine and a member of Adjunct Faculty at Ubiquity University's Wisdom School. In both his Pastoral Counseling and Earth Medicine practices, Dr. Rayne draws on experience and training in following disciplines: labyrinth, reiki, kaballah, meditation, energy healing, Himalayan singing bowl, earth energies, feng shui/space clearing, dowsing, contemplative brush, Egyptian Bio-geometry, alchemy, sacred geometry, Druid geomancy and medical intuitive work. He has trained with alchemists of the first religion of the Himalayas (nameless religion), known as "patterns of heaven and earth" or "sacred conventions." Dr. Rayne builds labyrinths, designs and consults on sacred landscapes, and produces energy mandalas and altars for healing. He currently serves as President of Healing and Expressive arts chapter of UU Society for Community Ministries and is a member of Veriditas Council, Spiritual Director's International, American Association of Pastoral Counselors, Association for Transpersonal Psychology and American Academy of Religion.
Course Duration: 1 month
Prices
| Registration Type | Credits | Standard Price |
| --- | --- | --- |
| Bachelors | 2 | $200 |
| Masters |  2 | $400 |
| Doctoral | 2 | $600 |
| Immersive Audit | 0 | $160 |
Ubiquity University Refund Policy
[/vc_column_text][/vc_column][/vc_row]