Earth Democracy
Course Description:
In this course, Dr Vandana Shiva will take you through her life journey to live and anticipate Earth Democracy – the recognition that we are members of the Earth Family and
have a duty to care for the earth and all her beings.
Earth Democracy shapes living economics and living democracy that protects the rights of Mother Earth and all her people and cultures.
Learning Outcomes:
By the end of the course you should be able to:
1. Explain the concept of Earth Democracy and how it differs from our normal perspective
2. Understand the nature of the transformation we must undergo as a global society
3. Use these concepts to successfully regenerate your local area
Modules
Module 1 • Earth Democracy: Regenerative Action
Module 2 • Cultivating Cultures of Oneness: In Our Minds and In Our Lives
Module 3 • Anti Nature Economy to Living Economy
Module 4 • Failed Democracy to Living Democracy
Requirements for enrolled Degree students to earn 1 Credit:
Required Reading
Reading resources all by Dr. Shiva:
End of course essay describing the impact on your life of studying this material
For BA students – 6-9 pages in length
For MA students – 10-15 pages in length
For PhD students – 20-25 pages in length
The rules guiding our assignment collection and grading process can be found here: Ubiquity University Grading Policy
Information about how we process refund or cancellation requests can be found here: Refund and Cancellation Policy
Faculty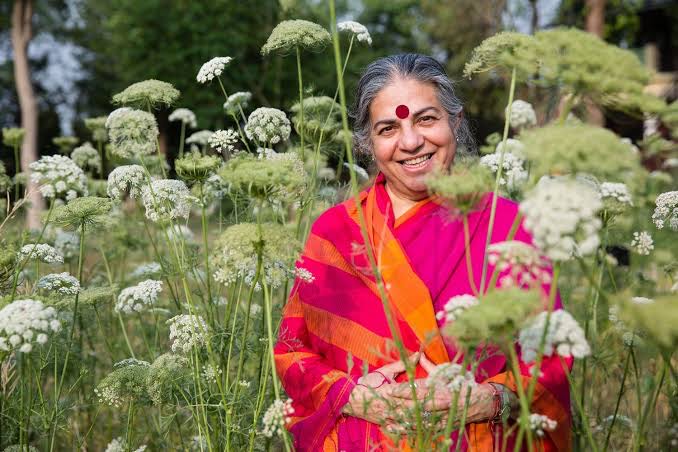 Vandana Shiva, PhD holds a Master's degree in physics and PhD in the philosophy of science, and has recevied an impressive number of awards. In 1993 she won the Right Livelihood Award, also known as the "Alternative Nobel Prize". In 2003, Time magazine had called her an "environmental hero" and Asiaweek magazine nominated her one of the continent's five most powerful communicators.
In 1982 she created the Foundation for Science, Technology and Ecology, and in 1987 she founded Navdanya, a movement in defence of food sovereignty, seeds, biodiversity and the rights of small farmers which promotes organic agriculture and fair trade.
Shiva has written numerous books, including "Monocultures of the Mind: Perspectives on Biodiversity and Biotechnology", "The Violence of the Green Revolution: Third World Agriculture, Ecology, and Politics" and "Biopiracy: The Plunder of Nature and Knowledge". She is on the boards of a number of organisations, including the World Future Council, International Forum on Globalisation and Slow Food International. In 2004 she founded Bija Vidyapeeth, or the School of the Seed, an international college where, among other things, meetings on organic farming techniques and natural insecticides are held.
Our shopping cart is simple and easy to understand. If you do not have a user account, you will be able to create one upon purchase. Save your username and password as you will need it to login to access course materials later. For more detailed, step-by-step instructions you can review our tutorial How to Purchase a Course. Again, if you experience any issues, please email Veronica Saldias at registrar@ubiquityuniversity.org.
Archived Webinar Contact Information:
Archived Webinars are completely on-demand for your convenience. If you have questions or require additional assistance, you may click the "Chat" button on the lower, left-hand side of the screen, and submit your question. Our help desk will respond as soon as possible.