This standalone salon is being offered to Ubiquity learners and is $30 to participate in this single live event. If you would like to participate in all four salons, you may do so by purchasing the combined option: Where the Fire and the Rose Are One: The Dante Salons – Sept. 13, Sept. 26, Oct. 4, Oct. 24 – https://www.ubiquityuniversity.org/courses/where-the-fire-and-the-rose-are-one-the-dante-salons-sept-13-sept-26-oct-4-oct-24/
Dates: Saturday, September 26, 2020 from 10:30 AM to 12:00 Noon PST
Format: One live webinar on Zoom
Faculty: Kayleen Asbo, PhD
Academic Credit: None unless purchased as the four salon package mentioned above.
Pricing:
Our shopping cart is simple and easy to understand. If you do not have a user account, you will be able to create one upon purchase. Save your username and password. If you experience any issues, please email Veronica Saldias at registrar@ubiquityuniversity.org.
Description:
The great 20th century poet TS Eliot was so profoundly shaped by Dante's vision that he learned Italian to read the text in the original language. References to Inferno and Purgatorio abound throughout his work, and his own inner journey was shaped by the vision of personal transformation Dante offers. On the anniversary of TS Eliot's birth, we will pay particular attention to the parallels between the Divine Comedy and Eliot's final masterpieces, "Little Gidding."
Faculty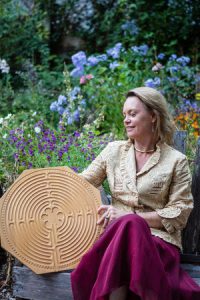 Described by Rev. Dr. Lauren Artress as "A true Renaissance woman," Kayleen Asbo is a scholar, composer, musician, poet, cultural historian and spiritual director who holds three advanced degrees in the fields of Mythology, Music and Psychology. Kayleen is the Artistic Director for the Mythica Foundation for the Arts and she has been on the faculties of the Pacifica Graduate Institute, UC Berkeley and Dominican University, where she has taught courses on subjects ranging from the History of Christian Mystics to Jung and the Red Book, from Dante to Beethoven and the Hero's Journey. She has been a keynote lecturer on Mary Magdalene and the Sacred Feminine for the Assisi Institute of Depth Psychology in Italy, at Chartres Cathedral in France, the Graduate Theological Union in Berkeley and throughout the world for spiritual centers, churches and psychological organizations and has been a featured speaker at the conference on Women and History at Oxford University in England. Dr. Asbo will be offering a virtual pilgrimage in the footsteps of Mary Magdalene and the Sacred Feminine this summer for Ubiquity University and the Wisdom School.