Live Faculty Sessions will run beginning on May 12 through July 28, 2021. Live sessions take place each Wednesday between 8:00 AM and 10:00 AM Pacific via Zoom. If you are taking this course for credit, your attendance at these live sessions is highly encouraged.
Zoom Information: Once you have registered for this program, please ensure you are signed in to your account and return to this page to access the "Get Your Zoom Link" lesson. You will be able to join the calls using the link embedded within it.
Course Description:
City Nestworking is a course for people who want to learn how to more effectively work with the systems of the city to improve the quality of life in our cities, at any scale. You might be an active citizen, working in the business world or the non-profit sector, or working in one of our public institutions. What you share is a desire to make cities that serve citizens well—and a desire to be citizens who contribute consciously to the city habitat we make for ourselves. (Cities work as well as we make them.)
This course does not emphasize how to physically improve cities to meet the UN SDGs; there are ample resources to explain how to do this. Rather, City Nestworking explores how we need to look at the systems of the city and our places in those systems, and our relationships with and within those systems. The course thus explores the quality of "civic practice" and "social habitat" that is needed to accomplish our work addressing the SDGs.
The course is designed to give you opportunities to actively apply City Nestworking ideas to your community work throughout the course. This can relate to your work generally, or to a specific project in the dream stage, in progress, or a reflection on a project that has already taken place. Whether general work or a project, you may be a volunteer, an observer, or paid to be actively involved. You do not need to be a formal city planner or explicitly involved in city work to take this course. You need only be interested in making cities that serve us well because everyone is a city maker—just in different ways that we will learn about in the course. This diversity of perspective will be actively used in live course sessions as diverse city experiences are explored.
The twelve lessons are organized into three modules. In Module 1 (Lessons 1-4) we will explore city systems and how city-making is a survival skill for the human species. In Module 2 (Lessons 5-8) we will examine the role of tension and conflict in cities as a pull for improvement. In Module 3 (Lessons 9-12) we will delve into how we are each city makers and evolutionary agents for the city. The content, along with the life experiences of students in live collaborative sessions, combine to create a space for you and our cities to reach new possibilities.
Learning Outcomes:
By the end of this course you should be able to:
Outcome 1: Discern your place in city-systems in a variety of ways
Outcome 2: Distinguish a variety of roles and "stances" you can take in your city making work to improve your effectiveness
Outcome 3: Interact with vital feedback loops that enable a city to inquire into the future it wishes for itself, and take appropriate action
Outcome 4: Describe effective "social habitats" where needed improvements to the city can be advanced.
Faculty: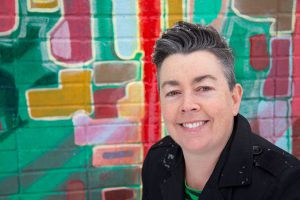 Beth Sanders MCP, RPP – Beth is the author of Nest City: How Cities Serve Citizens and Citizens Serve Cities. She is an award-winning city planner, including the International Integral City Meshworker of the Year in 2013. She has worked for municipalities across Western Canada, including as general manager of planning and development in Fort McMurray, in the heart of the oil sands, when it was the fastest-growing municipality in North America in the mid-2000s. In 2007 she founded POPULUS to shepherd efforts to make city habitats that serve citizens well. Beth is a fourth-generation settler of English, Irish and Norwegian descent living in the territory of the Treaty 6 First Nations and the homelands of the Métis people. She makes herself at home in Edmonton, a welcoming city where the first human footsteps that marked the land belonged to the Cree, Dene, Saulteaux, Nakota Sioux, Blackfoot, Métis, and Inuit. More information about Beth and her work can be found at www.bethsanders.ca. She can be reached at hello@bethsanders.ca.
Intro Video:

Course Modalities:
Non-Credit Options
Audit-No Credit – If you would like to participate when this course is offered in our Live Virtual Classroom mode, you may attend the live faculty webinars but will not be required to submit assignments for credit.
If you take a few courses and decide you want to officially enroll in a degree program, you can gain academic credit for Lite versions or Audit-No Credit versions by paying the difference between these course fees and a normal academic fee, successfully completing quizzes, submitting your reflection journals and delivering a Final Creative Assignment that will be graded.
For-Credit Options
Live Virtual Classroom: Study that takes place within Ubiquity University, in which Ubiquity academic coursework is accomplished through attendance in Live Webinars, with faculty and student interaction being a part of the Live Webinar content. To receive academic credit, you must not miss more than 3 live sessions, you must complete the quizzes and submit any other required assignments (if any), and a final creative assignment for grading at the degree level you are enrolled in.
Internal Online Independent Study: Study that takes place within Ubiquity University, in which Ubiquity academic online coursework is engaged in independently on one's own and does not include faculty interaction. To receive academic credit, you must complete the quizzes and submit your reflection journals and final creative assignment for grading at the degree level you are enrolled in.
Pricing:
BA Level: $300
MA Level: $600
PhD Level: $900
Audit-No Credit: $240 (only if offered in Live Virtual Classroom Mode)
Lite: $50 (no credit, access to course materials only)
Our shopping cart is simple and easy to understand. If you do not have a user account, you will be able to create one upon purchase. Save your username and password as you will need it to login to access course materials later. For more detailed, step-by-step instructions you can review our tutorial How to Purchase a Course. Again, if you experience any issues, please email Veronica Saldias at registrar@ubiquityuniversity.org.
We allow students at all academic levels to participate in our online courses. However, those students who are enrolled in MA or PhD programs are expected to offer a more sophisticated analysis on reflection tasks, writing assignments, and in the final creative assignment. You will be graded commensurate with your degree level. Except for the Final Creative Assignment, word counts are offered as guidelines. If you need to exceed the word counts to submit an MA or PhD level response, you may feel free to do so as long as the word count expansion is reasonable and necessary.
Course Contact Information:
Live Virtual Classroom macrocourses are delivered by faculty in live Zoom sessions. You will have a course facilitator who is available to answer questions and offer additional assistance and that information will be provided to you upon registration. Please do not email faculty directly with any technology or registration issues.
For on-demand lite or Internal Online Independent Study versions, click the "Chat" button down on the left-hand side of the screen for any technical issues or questions you may have about the content.