Live Workshop / Nano Course:
Dec 10 2022 from 10:00 – 12:00 PST on Zoom. A recording will be provided.
Workshop Description:
Immerse yourself in the goddess of love and beauty with mythologist Dr. Maryam Sayyad who will share her deep knowledge of the many dimensions of this great goddess and her relationship with Isis, Ishtar, Inanna and other great goddesses of antiquity.
Learn how love, sex, beauty, death and shadow all intermingle in this great goddess in a way that can make you more embodied and transform your soul.
Intro Video by Maryam Sayyad:
When God is Really Love: Unveiling the Goddess Aphrodite
We are too inclined to think of Aphrodite as a trinket, as if she were a decorative accessory. She appears seductive, vain, unserious; and yet, we know that the ancient Greeks took beauty very seriously.
When Pythagoras first called the universe a kosmos , he did so because he saw in it the embodiment of both order and beauty. The goddess of beauty personifies the embedded beauty of our universe and beauty's endless dance with its order, the truth of the universe.
She is the Lover Goddess and she tells the story of life as a love story.
Love is no trinket either. Indeed, Aphrodite cuts a colossal figure! At once tender, terrifying and transformative, her crown is in heaven; her feet walk upon the earth; and she plummets broken-hearted into the underworld—as low down as her heavenly ascent is high. Given that her underground and heavenly aspects were taken off the table in the Classical era, we must piece her full portrait together from local cults, pre-Homeric verse, Platonic dialogue, and Pythagorean symbology.
With the method and magic of comparative mythology, we can trace her back to her powerful Eastern roots and further back yet to the Neolithic Great Goddess. We can also trace her forward from Greece to Alexandrian and Roman initiatory rites, and to the Roman Venus whom the Renaissance would come to recognize as the source energy of all art.
Today, Aphrodite emerges unconsciously in the images, slogans, wishes and, indeed, the fundamental energy propelling the woman-led revolution in Iran.
Aphrodite is life-giver, energizer, transformer, healer, as well as death-wielder and initiator into the mysteries. Who among us has not been seduced, propelled, abducted, destroyed, and recreated anew by the irresistible goddess who wills wonders with her golden laughter?
By the end of this nanocourse you should be able to:
recognize the myths, figures, and symbols of Aphrodite when they reappear in
contemporary culture and in our dreams
• articulate the meaning of love and of beauty as expressed by this goddess
• be able to see her as an aspect of the Great Goddess by means of the comparative method
• take action in accordance with the guidance of archetypal love
Faculty: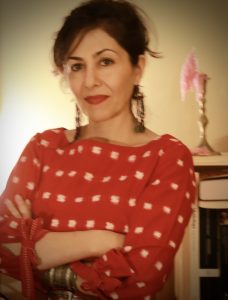 Maryam Sayyad is a mythologist and designer who emigrated from Tehran, Iran and lives in Los Angeles. She is a scholar, writer, lecturer, story consultant and serves as Director of Art and Education for Cross Cultural Expressions (CCE). She has taught courses and lectured in myth, psyche, philosophy, and writing at Ubiquity, Studio School, Philosophical Research Society and CCE and has served as consultant and co-writer on several myth-based film and animation projects.
Currently, she's co- writing the second in a series of mytho-psychological films in partnership with the Department of Mental Health, and working on her first book, Death, a Love Story: a Comparative Study of Mythic Encounters Between Love and Death.
She earned her PhD in Mythology and Depth Psychology in 2022 from Pacifica Graduate Institute.
Nanocourse Contact Information:
If you have questions or require additional assistance, you may click the "Chat" button on the lower, left-hand side of the screen, and submit your question. Our help desk will respond as soon as possible.
Single nanocourses do not qualify for academic credit. However, enrolled students can add any twelve nanocourses together, purchase a Nanocourse Credit Conversion option, pay the difference between the cost of the nanocourses and a regular trimester course at their degree level and submit a Final Creative Assignment for grading. Please contact our registrar for more information – registrar@ubiquityuniversity.org.
Our shopping cart is simple and easy to understand. If you do not have a user account, you will be able to create one upon purchase. Save your username and password as you will need it to login to access course materials later. For more detailed, step-by-step instructions you can review our tutorial How to Purchase a Course. Again, if you experience any issues, please email our Registrar at registrar@ubiquityuniversity.org.
Information about how we process refund or cancellation requests can be found here: Refund and Cancellation Policy