This course is CLOSED for registration on the Ubiquity website. If you would still like to take it at the audit-no credit price of $100, you may still sign up at the following link: https://www.kayleenasbo.com/odes-to-joy-advent-through-the-arts.html
If you have questions about accessing the zoom link please email Kayleen Asbo directly at mythicamuse@gmail.com.
Dates: Saturdays, November 28, December 5, 12 and 19, 2020 at 10:30 AM to 12:00 Noon Pacific Time
Format: Four live webinars on Zoom. One-hour lecture followed by Question and Answer and optional breakout sessions. All sessions will be recorded and will be posted on this page for access for registered students. It will take approximately one week after the lecture for the video to be posted here.
Faculty: Kayleen Asbo, PhD
Academic Credit: Bachelors- 1 credit, Masters – 1 credit; Doctoral – 1 credit
Questions: If you need technical assistance with the zoom link, please email Kayleen Asbo, PhD directly at mythicamuse@gmail.com
Out beyond ideas of wrongdoing and rightdoing, there is a field.
I will meet you there.
-Rumi

Odes to Joy: An Online Program for Advent
Course Description
Advent has historically been a time of waiting and longing, a time of introspection and quiet that culminates in the birth of joy.
In this online course, we will explore the art, music and archetypal themes of Advent: hope, peace, love and joy. We will also introduce contemplative practices that can provide inspiration for you to create and deepen your own experience of Advent that will help you listen more deeply to the still, small voice within at this inward time of year.
As part of the course, you will be guided to create your own Jungian inspired Advent book. Each week's gathering will begin with a ritual of poetry and lighting of candles. We will then dive deeply into a one-hour lesson on a musical masterwork and an art history lesson that explores one of the key themes of Advent across the centuries. Small optional group break out groups (required for course credit) will follow where you will be invited to share your own creative responses you have created through art, poetry and reflection.
To include:
Music of Bach, Beethoven, Hildegard of Bingen and Arvo Part
Art of Klimt, Hildegard of Bingen, Van Eyck, Dante Gabriel Rossetti
Poetry of Rumi, Mary Oliver, Rilke, TS Eliot, Dorianne Laux, Marie Howe, Juan de la Cruz recited by Hari Meyers, Doug Von Koss and Peggy Rubin
Music chanting
Small break out groups
Instruction in how to create your own Advent altar and soul collage cards
Learning Outcomes:
By the end of the course students will have:
Acquired a basic understanding of the history and tradition of Advent
Explored some of the greatest treasures of art and music from across the centuries that are connected to the Advent season
Discovered contemplative practices to make their own experience of Advent personally meaningful
Created their own unique expression of Advent in image and/or word.
Weekly Schedule
Week 1 – November 28, 2020 • The Week of Hope
JS Bach Advent Cantata: Nunn Komm</li>
How to create an Advent altar and wreath
Introduction to creating an Advent SoulBook
Week 2 – December 5, 2020 • The Week of Preparation and Peace
JS Bach Cantata BWV 140: Wachat Auf
Van Eyck: Ghent Altarpiece
Week 3 – December 12, 2020 • The Week of Joy
Beethoven: Symphony No, 9 "Chorale"
Klimt: Beethoven Frieze
Week 4 – December 19, 2020 • The Week of Wonder and Love
O Antiphons, Hildegard
Seven Magnificent Antiphons, Arvo Part
Veni Veni Emmanuel
Images of Mary: Fra Lippi and Dante Gabriel Rossetti
Sharing of SoulBooks
Required Reading and Listening
If you are taking the course for academic credit, you will be required to do the following:
Morning Altars: A Seven Step Practice to Nourish Your Spirit Through Nature, Art, and Ritual, Day Scheidenkeit
Mary Through the Ages, Jaroslav Pelikan
JS Bach: Cantatas BWV 61, 62, 140, 147
Ludwig Van Beethoven, Symphony No. 9
Post-Class Assignment (if taking course for academic credit):
Students taking the course for credit should submit a post-paper in addition to creating a Soul Book. Requirement for Bachelors level students is a 6-9 page post-paper, Masters level a 12-15 page paper, and Doctoral level 20-25 page paper, weaving together content from the lectures, discussions, reading materials and your experiences related to the entire course. Artistic work is welcome to supplement your paper.
Papers should be written in APA style, with footnotes.
Faculty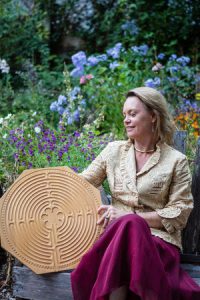 Described by Rev. Dr. Lauren Artress as "A true Renaissance woman," Kayleen Asbo is a scholar, composer, musician, poet, cultural historian and spiritual director who holds three advanced degrees in the fields of Mythology, Music and Psychology. Kayleen is the Artistic Director for the Mythica Foundation for the Arts and she has been on the faculties of the Pacifica Graduate Institute, UC Berkeley and Dominican University, where she has taught courses on subjects ranging from the History of Christian Mystics to Jung and the Red Book, from Dante to Beethoven and the Hero's Journey. She has been a keynote lecturer on Mary Magdalene and the Sacred Feminine for the Assisi Institute of Depth Psychology in Italy, at Chartres Cathedral in France, the Graduate Theological Union in Berkeley and throughout the world for spiritual centers, churches and psychological organizations and has been a featured speaker at the conference on Women and History at Oxford University in England.